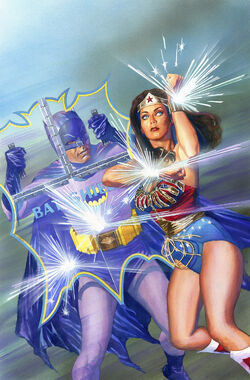 Wonder Woman is a superhero ally of the Dynamic Duo. She fights with a magic lasso that makes people tell the truth.
Biography
Edit
Apparently she was born on a island populated solely by women.
Behind the Scenes
Edit
She is a superhero who got her own show in 1977, and got a comic book continuation when people started talking about the character again because she in modern movies. In 2014, it was revealed that her show takes place in the Classic TV Series expanded universe comics.
Wonder Woman's show was originally conceived to have taken place in it's own universe, but Time-Warner decided in 2014 that her show is canon to the Batman universe.
Wonder Woman is the only character to get her own show besides Batman, Swamp Thing, The Flash and Superman.