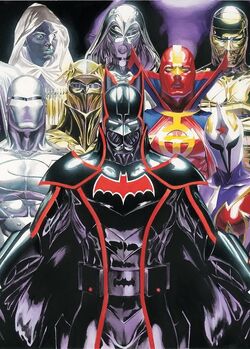 The "Justice Armor" was a special batsuit designed by Alex Ross from the 2005 Justice comic series. Its design scheme is based on the Classic TV Series Batmobile. The utility belt is also designed in homage to the one worn by Adam West. The belt is turned black, with the buttons on the bottom of the pouches turned red. It also has a square metallic buckle with a Bat-emblem.
In 2007, DC Direct released a figure based on the armor. To date, the armor has yet to appear in any issue of DC's Batman '66 comics or the related miniseries.
Ad blocker interference detected!
Wikia is a free-to-use site that makes money from advertising. We have a modified experience for viewers using ad blockers

Wikia is not accessible if you've made further modifications. Remove the custom ad blocker rule(s) and the page will load as expected.