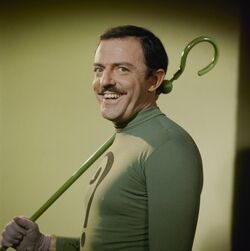 John Astin made a one time only appearance as the Riddler in A Riddling Controversy / Batman's Anniversary, when failed contract negotiations prevented the caracter's usual performer Frank Gorshin from returning.
Astin is best known for the role of Gomez Addams, patriarch of the eccentric title family in The Addams Family. Carolyn Jones, who played another villain Marsha, Queen of Diamonds, played his wife Morticia on the show. Ted Cassidy who played the Addams' butler Lurch, made a cameo appearance as that character in a cameo in the episode "The Penguin's Nest".
Ad blocker interference detected!
Wikia is a free-to-use site that makes money from advertising. We have a modified experience for viewers using ad blockers

Wikia is not accessible if you've made further modifications. Remove the custom ad blocker rule(s) and the page will load as expected.