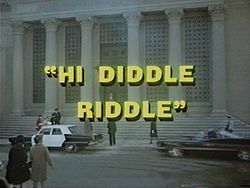 Solving one of The Riddler's puzzles, Batman and Robin track the villain to the Peale Art Gallery; here they find the Prince of Puzzlers holding a gun on the proprietor, Gideon Peale, and apparently stealing a valuable cross from him. But when the Dynamic Duo stops the Riddler's hold-up, they learn that his gun is actually a lighter, and that the cross is in fact his own property. The Riddler immediately summons a team of lawyers, who promptly hand the Caped Crusader a subpoena - Riddler is going to sue him for false arrest! Unless the Dynamic Duo can uncover the Riddler's plot before the case comes to trial, Batman will be forced to reveal his true identity in court.
Characters
Edit
Locations
Edit
This is the pilot episode for the Batman TV show.
Much of the dialogue for the scene in the study and the following Batcave scene was used for the Screen Tests in which Adam West, Burt Ward, Lyle Waggoner and Peter Deyell tested for the series. The scenes changed slightly between the Screen Test and the broadcast episode. In the Screen Test, Dick Grayson is reading the story of the Riddler's lawsuit from a newspaper rather than the characters hearing it over the television. Alfred was not part of the scene in the Screen Test. Also, the mention of Robin's inability to enter the night club (due to his young age) happened at the end of the Batcave scene in the Test, rather than in the subsequent scene outside the club in the broadcast episode.
Cliffhanger
Edit
Robin is strapped down on a table as Riddler prepares to operate on him.
Part 2: Smack In The Middle
Ad blocker interference detected!
Wikia is a free-to-use site that makes money from advertising. We have a modified experience for viewers using ad blockers

Wikia is not accessible if you've made further modifications. Remove the custom ad blocker rule(s) and the page will load as expected.