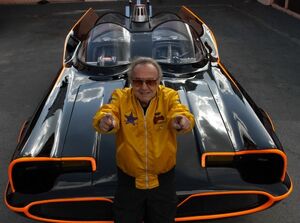 George Barris was an American car customizer and builder who worked and built many famous Hollywood cars, including the Batmobile.
He is the man that looked at Eddie Stakes's Batmobile design and decided to take Bill Schmidt and John Najjar Ferzely's 1955 Lincoln Futura and paint it black with red trim.
Official Site
Edit
Ad blocker interference detected!
Wikia is a free-to-use site that makes money from advertising. We have a modified experience for viewers using ad blockers

Wikia is not accessible if you've made further modifications. Remove the custom ad blocker rule(s) and the page will load as expected.