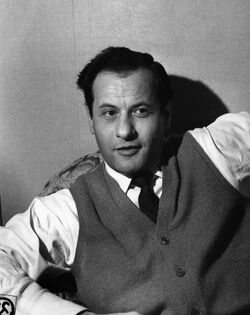 Eli Wallach is the actor that played Mr. Freeze in the third season of the Classic TV Series.
Biography
Edit
Early life
Edit
Education
Edit
Wallach's first film role came as Silva Vacarro in the then-controversial 1956 black comedy Baby Doll ,and later appeared in such films as The Magnificent Seven, How the West Was Won, and the Joseph Conrad adaptation Lord Jim. However, Wallach's career peaked with the unforgettable role of Mexican bandit Tuco Ramirez, or the Ugly, in Sergio Leone's iconic 1966 spaghetti western The Good, the Bad, and the Ugly.
Wallach later appeared in film such as The Godfather Part III and Wall Street: Money Never Sleeps.
Wallach continued to work , specifically vocally in the Ken Burns film The Roosevelts, until his death on June 24th, 2014 at the age of 98.
In The Good, the Bad and the Ugly, Wallach co-starred with fellow actor Clint Eastwood. Eastwood was in talks to play Two-Face in the 1966 Batman show along side Wallach as Mr. Freeze. However, the show was cancelled before anything was finalized. Additionally, Many fans have expressed interest in seeing Eastwood play Batman in the 1970s, however these plans ideas were unrecognized.
The Good, the Bad and the Ugly was released in Italy in 1966, the same year as the first season of Batman.
External links
Edit