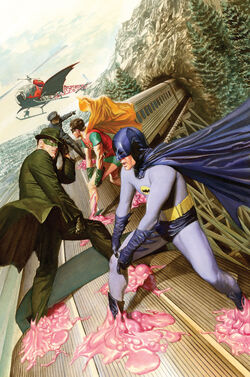 Dozierverse is a fan term used to describe the shared universe of television shows produced and narrated by William Dozier. The Green Hornet and Kato crossed over into the world of Gotham City during a Bat-Climb cameo in The Spell of Tut. They later guest starred in the full fledged adventure, A Piece of the Action/Batman's Satisfaction. The concept has been further explored in the modern expanded universe canon.
Crossovers in the show
Edit
Green Hornet and Kato first appeared in the window of a building while Batman and Robin were tracking down King Tut. The alternate masks from the pilot episode were used here.
Green Hornet and Kato come to Gotham again only to be turned into stamps by Colonel Gumm.
Crossovers in comics
Edit
They team up again to take down Colonel Gumm, who has formed an alliance with the Joker.
References
Edit
External links
Edit