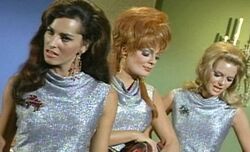 Doe, Rae, and Mimi are the henchwomen of Chandell. They appeared in the second season and were played by Marilyn Hanold, Edy Williams and Sivi Aberg.
Edy and Sivi have both appeared in other episodes of the series as a different character. Sivi portrayed another henchwoman named Undine (Surf's Up, Joker's Under)
Doe seems to be the leader.
External Links
Edit
Marilyn Hanold Wikipedia
Edy Williams Website
Sivi Aberg IMDB page
Ad blocker interference detected!
Wikia is a free-to-use site that makes money from advertising. We have a modified experience for viewers using ad blockers

Wikia is not accessible if you've made further modifications. Remove the custom ad blocker rule(s) and the page will load as expected.