Catwoman is an arch-nemisis of Batman and Robin. She employs cat-themed and fashions herself in cat clothing. She always has razor sharp claws and sometimes carries whips and other weapons.
Biography
Edit
Catwoman is one of Gotham City's most prominent villains, ranking near the top with Joker and Penguin for the most criminal activity. Dressed in a sleek, black bodysuit with cat ears and a cat medallion around her neck, Catwoman has the appearance and grace of the animal from which she gets her name. Indeed, at times she has been known to meow, and when Batman is close by her voice takes on a distinctive purr.
It is easy to see that Catwoman is attracted to Batman in a strong physical way. Whenever they come face to face she tries to coax him to admit his feelings for her, at times attempting to entice him into a more personal encounter. Even attracted to Batman as she is, she cannot abide his crime-fighting behavior. The fact they are on opposite sides of the law will undoubtedly keep them apart.
Her capers are usually related to cats in some way. Whether it be a form of ancient treasure or jewellry in the shape of a cat, cat-gut strings from antique violins, or the legendary treasure of Captain Manx, Catwoman will hatch a scheme which will usually involve trying to rid Gotham City of its caped protectors. Though she is attracted to Batman, she has the sense to realize he is a hinderance in her plans. Batman thinks that Catwoman has the nine lives of a cat because during her attempts to try and escape from capture she has fallen into a bottomless pit or off the roof of a waterfront warehouse and survived.
She has been known to team up with other master criminals. Her partners in crime include Freddie The Fence, Ma Parker, and The Sandman, though she had planned to double-cross him when the caper was finished. Even though the Joker and the Penguin had feelings for her, she refused them both because she hated The Joker's green hair and disliked The Penguin's size.
She has been known at times to keep pussy willows in her hideout. Throughout the day she will take time out for a cat nap and she has a fondness for milk. She also is allergic to dogwood.
She was also one of six arch-criminals freed from prison by Dr. Cassandra Spellcraft to form her new invisible gang, but this brief cameo appearance was by a stand-in.
Catwoman appeared in the first issue of Batman 66, called "Riddler's Ruse". In it, she temporarily teams up with Batman and Robin to capture Riddler, who blew up her new dance club. She managed to escape from Batman in the end. Before she left, she grabbed a valuable artifact, although Batman reveals to Robin that Catwoman actually stole a replica.
Later, the Eartha Kitt version of Catwoman was seen being taken down by Batgirl.
in the eleventh issue of Batman 66, she teams up with Joker to break out of Arkham Asylum by tricking Dr. Harleen Quinzel into helping her.
Weapons and Equipment
Edit
Known Associates
Edit
Just as Batman and Robin do not go at crime-fighting alone, Catwoman needs fellow partners in crime to assist her with her malicious schemes.
Known Hideouts
Edit
The Pink Sandbox - A new restaurant and dance club on the west side of Gotham. From this hip club came the Catusi, the latest dance craze.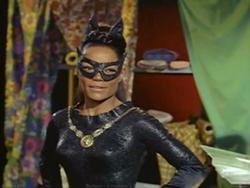 Weapons and Equipment
Edit
Known Associates
Edit
Appearances
Edit
Season 3
Behind the scenes
Edit