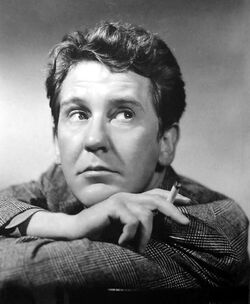 Burgess Meredith was the actor behind Penguin in 20 episodes of the Classic TV Series, more appearances than any other guest villain. Penguin was also the leader of the villains in the movie.
A non-smoker for several years at the time played the Penguin, the character's trademark smoking often caused Meredith to cough, so he developed the Penguin's distinctive "quack" sound to keep from ruining takes.
Later Work
Edit
Meredith later gained fame as "Mickey", the gravely voiced trainer in the Rocky movies.
References
Edit
External links
Edit
Ad blocker interference detected!
Wikia is a free-to-use site that makes money from advertising. We have a modified experience for viewers using ad blockers

Wikia is not accessible if you've made further modifications. Remove the custom ad blocker rule(s) and the page will load as expected.