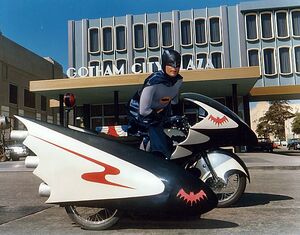 The Batcycle is a secondary vehicle the Dynamic Duo used to cruise the streets of Gotham. It is the only one of their vehicles that was replaced with updated version, with the original Batcycle having a matching black and red design scheme to match the Batmobile and Batcopter.
Behind the Scenes
Edit
The original Batcycle was already seen in the "Not Yet, He Ain't" episode. When it came time to do the movie the lease was over on the original and a new one had to be made. The second abandons the black and red colors much like the Batboat also built for the movie. It was produced by Kustomotive, conceived by Dan Dempski, designed by Tom Daniel, and built by Dan and Korky Korkes using a Yamaha Catalina 250. It was leased to 20th Century Fox starting on April 18, 1966 for $50 a week with an additional $350 up front. The new Batcycle was first used in the 1966 film Batman and continued to appear in the rest of the TV series. Hubie Kerns and Victor Paul did most of the stunt work with the motorcycle throughout the series. The total amount paid to Kustomotive was $2,500. When the series was canceled, Kustomotive used the Batcycle in car shows, paying royalties to Greenway, 20th Century Fox, and National Periodical Publications. Kustomotive built four replicas of the Batcycle for tours.
Robin's sidecar (a detachable self-propelled vehicle) was authenticated by Burt Ward on the television series Hollywood Treasure and sold at auction for $30,000.