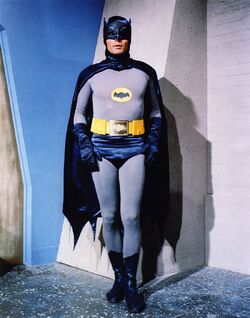 The Bat-Costume is what gives Bruce Wayne his Batman identity. The exact process it takes to put on is a mystery, the Batpoles change the Dynamic Duo when they slide down. The utility belt is worn over it, which houses all of his gadgets and weapons.
Behind the Scenes
Edit
The word Batsuit is never used, it was before the term was normalized in pop-culture.
Ad blocker interference detected!
Wikia is a free-to-use site that makes money from advertising. We have a modified experience for viewers using ad blockers

Wikia is not accessible if you've made further modifications. Remove the custom ad blocker rule(s) and the page will load as expected.