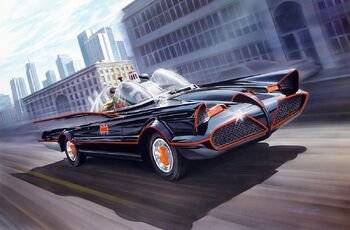 Alex Ross is a comic book artist and fan of the Classic TV series. Ross first payed homage to the series with a hi-tech Basuit design inspired by George Barris' Batmobile customization colors, featured in 2005's Justice.
Ross painted the Adam West Batman on the cover of 2010's Age of TV Heroes book about live action television featuring superheroes. Ross also painted the Batmobile for the packing art of the Polar Lights snap model kit released the same year.
Related works
Edit
References
Edit
External links
Edit
Ad blocker interference detected!
Wikia is a free-to-use site that makes money from advertising. We have a modified experience for viewers using ad blockers

Wikia is not accessible if you've made further modifications. Remove the custom ad blocker rule(s) and the page will load as expected.