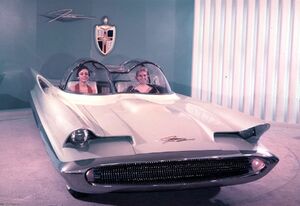 The 1955 Lincoln Futura is a concept car designed by Bill Schmidt and John Najjar Ferzely. The Futura was modified by George Barris and turned into the Batmobile for the Classic TV Series.
A major element removed from the original vehicle are additional glass dome "doors" above the driver and passenger seat, connecting the front windows to back. If one were to actually fight crime in such a vehicle, it would seem more logical to have the bullet proof glass fully surround the driver and passenger.
Ad blocker interference detected!
Wikia is a free-to-use site that makes money from advertising. We have a modified experience for viewers using ad blockers

Wikia is not accessible if you've made further modifications. Remove the custom ad blocker rule(s) and the page will load as expected.